Whether you're looking to escape the summer heat with an alfresco movie night or simply want a cozy spot to spend time with friends and family, transforming your porch into the ultimate hangout spot is easier than you think. By using a few key elements – including comfy seating, creative lighting, and inviting decor – you can turn that flat patio area into a stylish living space that will bring joy throughout every season. Read on for inspiration and tips on quickly updating your porch into an exciting new environment.
Invest in an awning or other shading options.
As the sun blazes hotter and the temperatures soar, it's time to start thinking about the best way to shade your outdoor space. An awning can be a significant investment, offering protection from the sun. With many designs and materials to choose from, you can find the perfect awning to complement your home's architecture and add that much-needed shade. The reputable providers of awnings in Dallas recommend investing in a quality product to ensure maximum durability and protection from the sun. And if awnings aren't your style, there are plenty of other shading options, including umbrellas, pergolas, and shade sails. So don't suffer in the sweltering heat this summer – invest in the shade you need to enjoy your outdoor space.
Tips to consider in choosing the right awning for your home exterior
Transform the look of your home exterior with the right awning. But how do you select the perfect one for your home? Consider a few tips before investing your money into a new awning:
Decide the purpose of the awning. Do you want it for shading or to add an element of style? The answer will help you determine the type and material of your awning.
Measure the area where you want to install the awning to ensure accurate dimensions.
Choose a trusted supplier who offers a variety of designs and can provide expert advice.
With these tips, you can select the right awning to enhance your home's curb appeal.
Invest in multi-purpose furniture too.
Multi-purpose furniture is the way to go when creating the perfect hangout spot on your porch. Investing in pieces like convertible chairs and couches saves space and allows for easy transformation from lounging to entertaining. Plus, with various styles and designs available, you can customize your furniture to match your porch's aesthetic. Imagine lounging on a comfortable couch during the day and transforming it into a cozy spot for gathering with friends at night. With multi-purpose furniture, the possibilities are endless for making your porch the ultimate hangout spot.
Hang up lights and string lights.
There's just something about having a beautifully lit porch that can instantly transform it into the ultimate hangout spot. Whether you're looking to entertain guests, enjoy a solo cup of coffee, or unwind after a long day, hanging up some lights can do the trick. You don't need to be an interior design expert to add flair to your porch either – stringing some solar lights up can give it a homey, warm feeling. So what are you waiting for? Grab some string lights and get ready to turn your porch into the ultimate place to hang out.
Be selective of the plants and flowers on your porch.
Simply being selective in plants and flowers on your porch can drastically improve the atmosphere and bring a touch of the outdoors. Whether you opt for potted plants, hanging baskets, or just a few flowers planted directly into the ground, these elements can add a touch of warmth and coziness to your porch. Plus, they're great at filtering out impurities from the air. It's no wonder that incorporating nature into your porch decor is becoming increasingly popular. So, why not try it out for yourself and see just how big of a difference a little bit of nature can make?
Place decorative wall hangings or artwork on the walls.
Your porch is not just an outdoor area; it's an extension of your home. You can transform it into the ultimate hangout spot with some creativity and decorative wall hangings or artwork. Adding artwork to your porch walls enhances your space's aesthetic appeal and creates a warm and inviting atmosphere. The options are endless, whether it's a colorful canvas or a vintage wall hanging. So, why settle for a dull porch when you can create an outdoor retreat you and your guests will love? Get inspired and turn your porch into the perfect spot to relax and unwind.
Install an outdoor rug or carpet.
Tired of your porch feeling like an unfurnished, uninspired space? It's time to make your outdoor area more comfortable and stylish with a rug or carpet. Outdoor rugs add a pop of color and texture and make your space cozier and more inviting. Whether you are hosting a party or just relaxing with a book, a fluffy rug underfoot will provide the comfort you need to enjoy your porch even more. Plus, outdoor rugs and carpets are designed to withstand the elements so that they will last for years. Transform your patio into the ultimate hangout spot with an outdoor rug or carpet, and enjoy endless evenings of lounging in complete comfort.
Add a patio heater
As the temperatures drop, spending time outdoors on your porch may seem less inviting. But with the addition of a patio heater, you can easily extend the use of your porch throughout the colder months. A patio heater will keep you warm and cozy and create a welcoming ambiance, perfect for entertaining guests or simply enjoying a quiet evening outdoors. You can make the most of your outdoor space year-round by transforming your porch into the ultimate hangout spot. So why not invest in a patio heater and start enjoying your porch no matter the season?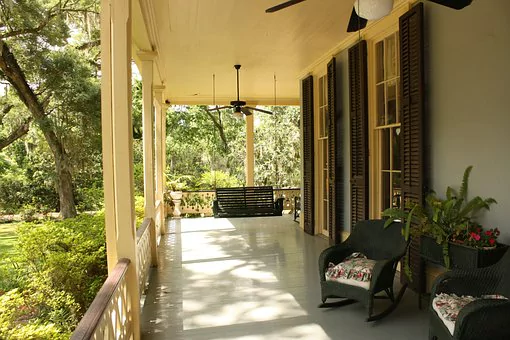 These tips allow you to turn your porch into an inviting and comfortable space. At this point, you're sure to have an ultimate hangout spot that friends and family cannot resist. So, invite over some guests and show off your outdoor retreat. With the right décor and furnishings, you can create a beautiful destination in your own backyard. Get creative and start transforming your porch into the perfect hangout spot today.
Read Also: The Versatility of Residential Awnings: Creative Ways to Use Them Beyond Just Your Porch